Abraham Lincoln
"Nearly all men can stand adversity, but if you want to test a man's character, give him power."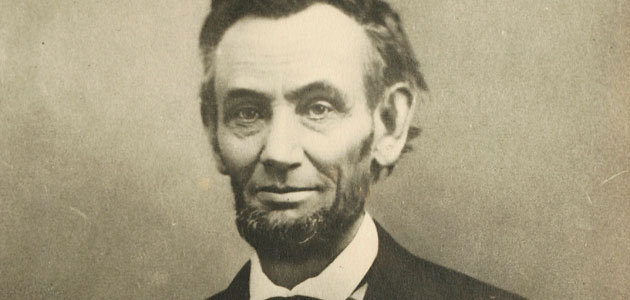 Timeline on Abraham Lincoln's life:
Born February 12, 1809 in a one bedroom log cabin in southeast Hardin County, Kentucky
Dec 1816 Lincoln's family relocated to Indiana.
Oct 5 1818 His mother dies of milk sickness.
Dec 5 1819 His father remarries widow Sarah Bush Johnston.
Jan 20 1828 Lincoln's sister Sarah Lincoln dies during childbirth.
Apr 1828 Lincoln works on cargo flatboat bound for New Orleans.
Mar 1830 Lincoln's family relocates to Illinois.
March 1831 Lincoln makes second flatboat trip to New Orleans.
Jul 1831 Abraham Lincoln seperates from his family.
Mar 1832 Lincoln becomes a candidate for Illinois General Assembly.
Apr 21 1832 Lincoln makes first enlistment in the Black Hawk War.
May 29 1832 Lincoln re-enlists in the Black Hawk War.
June 20 1832 Lincoln enlists for third time in Black Hawk War.
Aug 6 1832 Lincoln becomes postmaster of New Salem.
Oct 1833 Lincoln takes up work as Surveyor.
Aug 4 1834 Lincoln is elected to the Illinois State Legislature.
Mar 1 1837 Licoln is admitted to the Illinois Bar.
Nov 4 1842 Lincoln weds Mary Todd.
Aug 3 1846 Lincoln elected to Congress as Whig Representative from Illinois.
May 22 1849 Lincoln recieves a patent on a device for bouying vessels over shaols.
Lincoln is the only President of the United States to hold a patent.
Dec 1851 Lincoln represents the Alton & Sangamon Railroad.
Oct 16 1854 Lincoln delivers Peoria Speech.
May 1858 Lincoln uses judicial notice in the "Armstrong Case".
Jun 16 1858 Lincoln delivers the House Divided speech.
Feb 27 1860 Mathew Brady photographs Lincoln before his Pre-Presidential speech.
Nov 6 1860 Abraham Lincoln elected 16th President of the United States of America.
Feb 22 1861 The Balitmore plot to assissinate Abraham Lincoln en route to his inauguration.
Mar 4 1861 Inaugaration of Abraham Lincoln.
Feb 25 1862 Lincoln signs the first Legal Tender Act.
Apr 16 1862 Lincoln signs the Emancipation Act.
May 15 1862 Lincoln establishes the Department of Agriculture.
May 20 1862 Lincoln signs the Homestead Act.
Sept 22 1862 Lincoln issues the first order of the Emacipation Proclamation.
Mar 4 1863 Lincoln signs an act creating the Idaho Territory.
Nov 19 1863 Lincoln delivers the Gettysburgh Address.
Dec 8 1863 Lincoln signs issues Amnesty Proclamation.
Nov 8 1864 Lincolns 2nd Presidential election.
Mar 4 1865 Lincoln delivers second Inaugural Address.
Apr 14 1865 President Abraham Lincoln Assassinated.
Dec 6 1865 The 13th Ammendment is ratified.
May 30 1922 Lincoln Memorial dedicated.
Timeline and references of information are from WorldHistoryProject.org